Summary of Season 2 premiere of 'The Masked Singer': Which two celebrities have been exposed?
"Time to get weird."
Host Nick Cannon opened the second season of Fox's "The Masked Singer" with this statement, and he was not mistaken that he was on the strangest television stage. In its first season last winter, "Singer" became a real competitive sensation, turning spectators into annoyances that found most celebrities on the B and C list were in lavish costumes.
The new season breaks out in the midst of an avalanche of hype, and the judges, hosts, and attendees all seem to know that they are singing and guessing in a hit show. The result is a series that is now slightly better processed in its craziness and quirks, but still has the funny madness that made the first season so magical.
The two-hour premiere saw not one but two celebrities take off their masks, and had plenty of good (and just a little bad) singing to keep us humming along throughout.
Butterfly versus Egg
Our first matchup was Butterfly versus Egg, the former starting with a rendition of "Bang Bang" by Ariana Grande, Jessie J and Nicki Minaj. In her gorgeous, glittery costume she knocked the difficult song out of the park (she can belt!) but her clues (like many in the episode) were vague.  There was a reference to a home in London, but she spoke with a Southern accent. Her clue clip hinted at a photo shoot, but also that she's been in hiding. The judges threw out model/actress Cara Delevingne, Fantasia Barrino, Spice Girl Mel B and, oddly, Diana Ross as suspects.
Next up was Egg, who sounded a lot less like a trained singer. He wore a lot of sparkles, sang "Just Dance" by Lady Gaga, and gave off – as the judges skated around saying – a flamboyant vibe. (At one point, Jenny McCarthy called him "fabulous," and she might as well have used air quotes.) The clues included a skateboard, a wedding dress sketch and words like "swan" and "leap," which moved the judges to guess famous figure skaters like Johnny Weir and Adam Rippon, as well as fashion-conscious personalities like "Queer Eye" star Jonathan Van Ness and designer Christian Siriano. 
Egg's Auto-Tuned Gaga song lost out to the Butterfly's talent, so he retreated to participate in a "smackdown" (Fox, a new home of WWE wrestling, is really emphasizing in-network promotion) with the loser of the next face-off.
Thingamajig versus Skeleton
Our next two celebrities, dressed as "Thingamajig" (like the last season's monster, but tall and lanky) and as a skeleton. Depending on how tall Nick Cannon is, the Thingamajig is a formidable figure that prompted the judges to guess NBA players. His hint package mentioned fashion shoots, sneakers and the number four, possibly related to championship rings. He sang "Easy" by The Commodores and had a good, but not refined voice. The judges appreciated Michael Strahan, Stephen Curry (who is much too short) and Dennis Rodman, but I am for this a part of Kareem Abdul-Jabbar.
Skeleton sang next and he's definitely the biggest character of the year so far. He's skeletal and uses funny voices in singing / tapping and even when he's talking behind the voice-changer. He performed a mashup of Sugarhill Gang's "Rapper's Delight" and Chic's "Good Times," which distracted the judges, though they're pretty sure he's a comedian. Ken Jeong is convinced that it's Martin Short, but that does not convince me. (Would Short really rappet Sugarhill Gang?)
The audience and judges opted for Thingamajig to stay, resulting in a fall between Egg and Skeleton. Egg Sung "One Way or Another" by Blondie and Skeleton did Otis Redding's "Hard to Handle" (proving he's definitely not Martin short). Skeleton won and Egg was the first candidate to be unmasked. But he has to wait until the end of the night for the other four stars to sing.
Ladybug versus Rottweiller
Matchup No. 3 was between Ladybug and Rottweiler. Like so many of the participants last year, ladybirds seem to have been born into a famous family. Her clue showed a strange collection of items, including a baseball bat and a dog clinging to a post. She sang "Holding Out for a Hero" by Bonnie Tyler, and as she sounded more mature, the judges appreciated Jamie Lynn Spears, Lilly Collins and Willow Smith, among others. Jeong threw Lindsay Lohan out, but Ladybug was deeply offended by the proposal.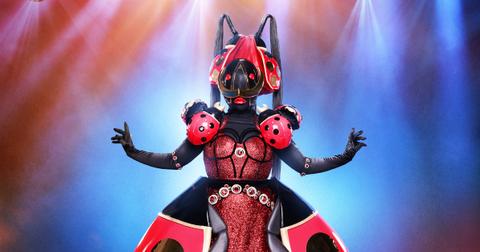 In his introductory role, Rottweiler talked about handling pigskin under Friday Night Lights, but it seems too obvious that he is a professional footballer. His choice fell on "Maneater" by Hall and Oates, and his beautiful tenor voice convinces the judges that he is a singer. They suggested many boy band members like JC Chasez of 'NSYNC and Brian Littrell of Backstreet Boys, and that does not sound wrong. Rottweilers beautiful crooning won the day and endangered the ladybug.
Tree versus Ice Cream
The last encounter between Tree and Ice Cream, possibly the craziest costumes ever. The Christmas robe of Tree is an indication, and their hint package is dedicated to the theme of Christmas. She hinted that she might be a celebrity chef like Rachael Ray (but that too seems to be too easy), but the focus on Christmas does not quite match. She gave a solid performance of "High Hopes" by Panic! At the disco, the judges were everywhere, appreciating Ray, Beverly D'Angelo of National Lampoon's Christmas Vacation, and even Wendi McLendon-Covey of The Goldbergs.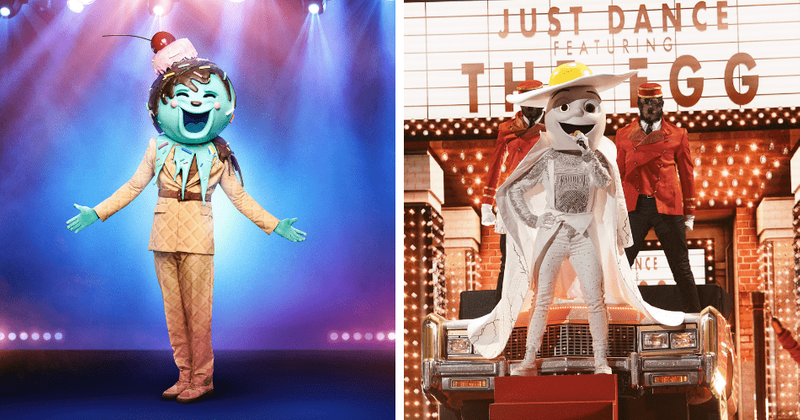 Ice Cream is one of the participants, who, although he can not be identified immediately, radiates a strong mood in his role as a cue and stage presence. Tall and slim, his references to money, emojis and the word "billion" focused on making the judges believe he was a digital star. He gave a somewhat unpassable interpretation of "Old Town Road" by Lil Nas X and Billy Ray Cyrus, and the judges guessed that he might be a DJ like Diplo or Calvin Harris or Marshmello or even a tech mogul like Snapchat founder Evan Spiegel .
Ice Cream is the one to lose the face-off and heads to a smackdown with Ladybug, whose performance of "Hit Me With Your Best Shot" by Pat Benatar triumphed over Ice Cream's try at "Whip It" by Devo. Ice Cream officially became the second celebrity to head to the unmasking. 
Egg and Ice Cream were our dairy losers this week, and the final guesses from the judges were: Weir, Siriano or Van Ness for Egg and Rob Dyrdek, YouTube star Pew Die Pie, Marshmello or deadmau5 for Ice Cream. Egg is Weir (they were right!) and Ice Cream is YouTuber and Gamer "Ninja" (aka Tyler Blevins), throwing everyone, and probably confusing the older members of the audience. 
Two celebs down, 10 to go on this supersized season of "Singer."
Tags:
Masked Singer
,
Masked Singer Season 2